All I can say about this is: wow. I didn't realize how many books I actually got this month. It's insane!! I really thought my birthday haul was going to be my last big haul.
Truth is, I spend too much time and money on books. At least it's not drugs, right?
And of course, I can't even take a good looking picture with so many books >.<
What books did you get this month?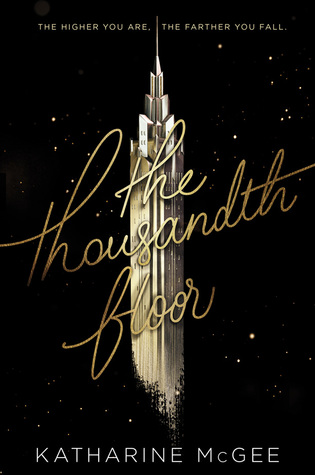 Title: The Thousandth Floor
Author: Katharine McGee
Purchase: Amazon ~ Kindle

Synopsis:
NEW YORK CITY AS YOU'VE NEVER SEEN IT BEFORE.
A thousand-story tower stretching into the sky. A glittering vision of the future where anything is possible—if you want it enough.
WELCOME TO MANHATTAN, 2118.
A hundred years in the future, New York is a city of innovation and dreams. Everyone there wants something…and everyone has something to lose.
LEDA COLE's flawless exterior belies a secret addiction—to a drug she never should have tried and a boy she never should have touched.
ERIS DODD-RADSON's beautiful, carefree life falls to pieces when a heartbreaking betrayal tears her family apart.
RYLIN MYERS's job on one of the highest floors sweeps her into a world—and a romance—she never imagined…but will this new life cost Rylin her old one?
WATT BAKRADI is a tech genius with a secret: he knows everything about everyone. But when he's hired to spy for an upper-floor girl, he finds himself caught up in a complicated web of lies.
And living above everyone else on the thousandth floor is AVERY FULLER, the girl genetically designed to be perfect. The girl who seems to have it all—yet is tormented by the one thing she can never have.
Amid breathtaking advancement and high-tech luxury, five teenagers struggle to find their place at the top of the world. But when you're this high up, there's nowhere to go but down….
Title: Watch Me
Author: Lauren Barnholdt
Purchase: Amazon ~ Kindle

Synopsis:
She thinks she has nothing to hide…
Ally has everything under control. She's about to move into a house full of strangers and have her life broadcast to the world, but as long as she still has her long-distance boyfriend, Corey, nothing can go wrong. Nothing, that is, until Ally starts spending time with her housemate Drew, the hot and sensitive guy who always seems to be around when she needs someone the most.
As suspicions and lies start pulling Ally and Corey apart, she's not sure if she can trust anyone, not even herself. Ally is about to learn the hard way that life is what happens when everyone is looking, and it doesn't always capture her good side….
Title: All At Once
Author: Vera Mae
Purchase: Amazon ~ Kindle

Synopsis:
Jayne meets Lyel, the hottest star on television, in an elevator. When the lift lurches to a stop mid-ride, they share a candid exchange before Jayne faints, waking minutes later on the floor in Lyel's arms. It takes less than fifteen minutes for the cords of love to tighten, and Lyel pursues Jayne, having fallen utterly and completely in love. But Lyel has a secret, and after he spends three inseparable days with Jayne, he disappears into thin air. Jayne is shattered, left to mend the heart Lyel's torn to pieces. Then, as though he'd never parted from her, Lyel returns and confesses his truth.
Title: Almost Missed You
Author: Jessica Stawser
Purchase: Amazon ~ Kindle

Synopsis:
Violet and Finn were "meant to be," said everyone, always. They ended up together by the hands of fate aligning things just so. Three years into their marriage, they have a wonderful little boy, and as the three of them embark on their first vacation as a family, Violet can't help thinking that she can't believe her luck. Life is good.
So no one is more surprised than she when Finn leaves her at the beach—just packs up the hotel room and disappears. And takes their son with him. Violet is suddenly in her own worst nightmare, and faced with the knowledge that the man she's shared her life with, she never really knew at all.
Caitlin and Finn have been best friends since way back when, but when Finn shows up on Caitlin's doorstep with the son he's wanted for kidnapping, demands that she hide them from the authorities, and threatens to reveal a secret that could destroy her own family if she doesn't, Caitlin faces an impossible choice.
Title: Even When You Lie To Me
Author: Jessica Alcott
Purchase: Amazon ~ Kindle

Synopsis:
Charlie, a senior, isn't looking forward to her last year of high school. Another year of living in the shadow of her best friend, Lila. Another year of hiding behind the covers of her favorite novels. Another year of navigating her tense relationship with her perfectionist mom.
But everything changes when she meets her new English teacher. Mr. Drummond is smart. Irreverent. Funny. Hot. Everyone loves him. And Charlie thinks he's the only one who gets her.
She also thinks she might not be the only one with a crush.
Title: Bodyguard
Author: Jessica Linden
Purchase: Amazon ~ Kindle

Synopsis:
The most eligible bachelor on Capitol Hill has met his match.
Abbie Whitmore is good at her job. She knows how to protect people, and she's always right–until Congressman Jonathan Lassiter comes along. The presidential hopeful refuses to believe that his politics have put him in danger, yet Abbie's determined to keep him safe. But how can she protect him while she's guarding her heart?




Title: Dazzling
Author: Elizabeth Hayley
Purchase: Amazon ~ Kindle

Synopsis:
She's a starving artist and he's a billionaire playboy….
Siobhan came to New York with a purpose: She wants to become a successful artist. To pay her bills in the meantime, she's the hostess at The Stone Room, a bar for the beautiful and the billionaires. She's fine with being on her own–until tech billionaire Derick takes her breath away.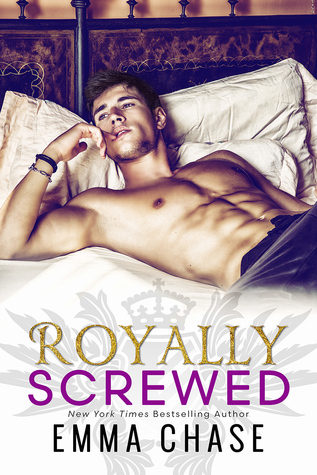 Title: Royally Screwed
Author: Emma Chase
Purchase: Amazon ~ Kindle

Synopsis:
Nicholas Arthur Frederick Edward Pembrook, Crowned Prince of Wessco, aka His Royal Hotness, is wickedly charming, devastatingly handsome, and unabashedly arrogant; hard not to be when people are constantly bowing down to you.
Then, one snowy night in Manhattan, the prince meets a dark haired beauty who doesn't bow down. Instead, she throws a pie in his face.
Nicholas wants to find out if she tastes as good as her pie, and this heir apparent is used to getting what he wants.
Dating a prince isn't what waitress Olivia Hammond ever imagined it would be.
There's a disapproving queen, a wildly inappropriate spare heir, relentless paparazzi, and brutal public scrutiny. While they've traded in horse drawn carriages for Rolls Royces, and haven't chopped anyone's head off lately, the royals are far from accepting of this commoner.
But to Olivia, Nicholas is worth it.
Nicholas grew up with the whole world watching, and now Marriage Watch is in full force. In the end, Nicholas has to decide who he is and, more importantly, who he wants to be: a King… or the man who gets to love Olivia forever.
Title: One Of Us Is Lying
Author: Karen M. McManus
Purchase: Amazon ~ Kindle

Synopsis:
Pay close attention and you might solve this.
On Monday afternoon, five students at Bayview High walk into detention.
Bronwyn, the brain, is Yale-bound and never breaks a rule.
Addy, the beauty, is the picture-perfect homecoming princess.
Nate, the criminal, is already on probation for dealing.
Cooper, the athlete, is the all-star baseball pitcher.
And Simon, the outcast, is the creator of Bayview High's notorious gossip app.
Only, Simon never makes it out of that classroom. Before the end of detention Simon's dead. And according to investigators, his death wasn't an accident. On Monday, he died. But on Tuesday, he'd planned to post juicy reveals about all four of his high-profile classmates, which makes all four of them suspects in his murder. Or are they the perfect patsies for a killer who's still on the loose?
Everyone has secrets, right? What really matters is how far you would go to protect them.
Title: Midnight Hour
Author: C.C. Hunter
Purchase: Amazon ~ Kindle

Synopsis:
A missing sister, a heart in turmoil, and a growing tattoo that no one understands…C. C. Hunter brings The Shadow Falls saga to a spectacular conclusion in this thrilling finale: Midnight Hour! Being a dyslexic witch has never been easy for Miranda Kane, but her time at Shadow Falls helped her tap into her true powers. Now her life is thrown into chaos after a near death experience leaves her with a mysterious growing tattoo no one can explain. Her heart is a mess over whether to get back together with Perry or take a chance on a new love, her parents are spitting up, and she may not get into the same college of her two best friends. To upend her world further, it appears her sister has been kidnapped and its not just her they want. Mirandas only way of saving her sister may be to take her place. Will her friends at Shadow Falls save Mirandaor will she realize that she had the power to save herself all along?
Title: Beyond The Break
Author: Kristen Mae
Purchase: Amazon ~ Kindle

Synopsis:
What if the forbidden could heal you?
A haunting story of unexpected love in the aftermath of a brutal trauma, Beyond the Break will take you on a journey that will leave you questioning everything you thought you knew about friendship, sexuality, and love:
Hazel Duval craves an ordinary life free of the pitying looks from those who know about her traumatic past–about what he did to her. About what she had to do to survive. When she moves with her husband Oren to the ocean-side town of Conch Garden and secures her dream job playing violin with the local orchestra, Hazel thinks she may have finally left her ugly history behind her. She even makes a new friend.
A friend who turns out to be a little more than she bargained for.
Beautiful, brilliant, and wild, Claire makes love to the sand with her toes, focuses intensely without wrinkling her forehead, and makes a cello sing like nothing Hazel has ever heard. She also listens to Hazel's most painful secrets without judgment or expectation. It isn't long before Hazel finds herself thinking about Claire in ways she has never thought of another woman. Fantasizing. Wanting. Longing.
But Hazel is married, and so is Claire. Indulging in this fantasy is not an option. Hazel must bury her lust despite her ever-growing infatuation with Claire and the mountain of shame that comes along with it. Still, there is no denying that her feelings for Claire have awakened something primal in her–for the first time in her life, Hazel feels alive. And now the two women are flying off to Italy to perform at a music festival, where they'll be sharing an apartment.
Alone.
As their friendship deepens, Hazel learns from Claire that there is more than one type of love and that salvation comes in many forms. But is Hazel's relationship with Claire really saving her, or is it only leading to the inevitable destruction of the life she's worked so hard to build?
Title: The Art Of Floating
Author: Kristin Bair O'Keeffe
Purchase: Amazon ~ Kindle

Synopsis:
At a time when nothing seems real, it takes something truly unusual to put your life into focus.
When her beloved husband Jackson disappeared without a trace, popular novelist Sia Dane stopped writing, closed down her house, stuffed her heart into a cage, and started floating. It wasn't the normal response to heartache, but Sia rarely did things the normal way.
Exactly one year, one month, and six days after Jackson's disappearance, Sia discovers a mysterious man on the beach. He's mute, unresponsive, and looks as if he has just walked out of the sea. It's the sort of situation Jackson would have solved with a simple call to the police. But Jackson is gone.
As unreal as he seems, Sia is determined to help this man. Perhaps she can return him to his place in the world—to whoever lost him and loves him. Perhaps she can answer their questions the way no one could answer hers.
But as her friends and family help her winnow her way to the truth, Sia comes to realize that the unfathomable leap between sorrow and healing begins with a single step.
Title: It's You
Author: Jane Porter
Purchase: Amazon ~ Kindle

Synopsis:
In the wake of a tragedy that tore her life down to the foundations, Dr. Alison McAdams has lost her way. So when she's summoned to Napa to care for her ailing father, she's not sure she has anything to offer him—or anyone else.
What Ali finds in Northern California wine country is a gift—an opportunity to rest, and distance from her painful memories. Most unexpectedly, she finds people who aren't afraid of her grief or desperate for her to hurry up and move on.
As Ali becomes part of her father's community, makes new friends of her own, and hears the stories of a generation who survived the Second World War, she begins to find hope again. In a quest to discover the truth about another woman's lost love, she sets off on a journey across oceans and deep into history. And in making sense of that long-ago tragedy, Ali is able to put together the broken pieces of her heart and make new choices that are right for her.
Title: Control
Author: Lydia Kang
Purchase: Amazon ~ Kindle

Synopsis:
Set in 2150 — in a world of automatic cars, nightclubs with auditory ecstasy drugs, and guys with four arms — this is about the human genetic "mistakes" that society wants to forget, and the way that outcasts can turn out to be heroes.
When their overprotective father is killed in a terrible accident, Zel and her younger sister, Dylia, are lost in grief. But it's not until strangers appear, using bizarre sensory weapons, that the life they had is truly eviscerated. Zel ends up in a safe house for teens that aren't like any she's ever seen — teens who, by law, shouldn't even exist. One of them — an angry tattooed boy haunted by tragedy — can help Zel reunite with her sister.
But only if she is willing to lose him.
Title: Giving Up The Ghost
Author: Eric Nuzum
Purchase: Amazon ~ Kindle

Synopsis:
Eric Nuzum is afraid of the supernatural, and for good reason: As a high school oddball in Canton, Ohio, during the early 1980s, he became convinced that he was being haunted by the ghost of a little girl in a blue dress who lived in his parents' attic. It began as a weird premonition during his dreams, something that his quickly diminishing circle of friends chalked up as a way to get attention. It ended with Eric in a mental ward, having apparently destroyed his life before it truly began. The only thing that kept him from the brink: his friendship with a girl named Laura, a classmate who was equal parts devoted friend and enigmatic crush. With the kind of strange connection you can only forge when you're young, Laura walked Eric back to "normal"—only to become a ghost herself in a tragic twist of fate.
Years later, a fully functioning member of society with a great job and family, Eric still can't stand to have any shut doors in his house for fear of what's on the other side. In order to finally confront his phobia, he enlists some friends on a journey to America's most haunted places. But deep down he knows it's only when he digs up the ghosts of his past, especially Laura, that he'll find the peace he's looking for.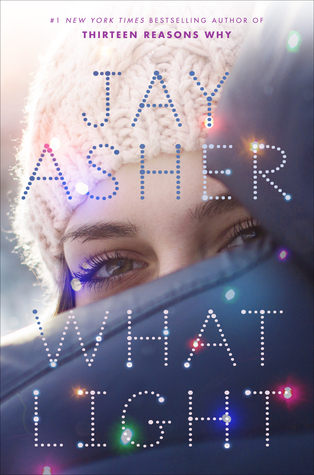 Title: What Light
Author: Jay Asher
Purchase: Amazon ~ Kindle

Synopsis:
Sierra's family runs a Christmas tree farm in Oregon—it's a bucolic setting for a girl to grow up in, except that every year, they pack up and move to California to set up their Christmas tree lot for the season. So Sierra lives two lives: her life in Oregon and her life at Christmas. And leaving one always means missing the other.
Until this particular Christmas, when Sierra meets Caleb, and one life eclipses the other.
By reputation, Caleb is not your perfect guy: years ago, he made an enormous mistake and has been paying for it ever since. But Sierra sees beyond Caleb's past and becomes determined to help him find forgiveness and, maybe, redemption. As disapproval, misconceptions, and suspicions swirl around them, Caleb and Sierra discover the one thing that transcends all else: true love.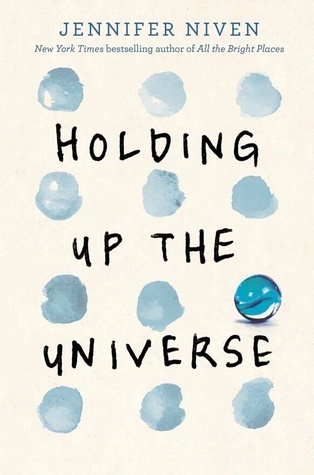 Title: Holding Up The Universe
Author: Jennifer Niven
Purchase: Amazon ~ Kindle

Synopsis:
Everyone thinks they know Libby Strout, the girl once dubbed "America's Fattest Teen." But no one's taken the time to look past her weight to get to know who she really is. Following her mom's death, she's been picking up the pieces in the privacy of her home, dealing with her heartbroken father and her own grief. Now, Libby's ready: for high school, for new friends, for love, and for every possibility life has to offer. In that moment, I know the part I want to play here at MVB High. I want to be the girl who can do anything.
Everyone thinks they know Jack Masselin, too. Yes, he's got swagger, but he's also mastered the impossible art of giving people what they want, of fitting in. What no one knows is that Jack has a newly acquired secret: he can't recognize faces. Even his own brothers are strangers to him. He's the guy who can re-engineer and rebuild anything, but he can't understand what's going on with the inner workings of his brain. So he tells himself to play it cool: Be charming. Be hilarious. Don't get too close to anyone.
Until he meets Libby. When the two get tangled up in a cruel high school game—which lands them in group counseling and community service—Libby and Jack are both pissed, and then surprised. Because the more time they spend together, the less alone they feel. Because sometimes when you meet someone, it changes the world, theirs and yours.
Title: In Bed With The Billionaire
Author: Jackie Ashenden
Purchase: Amazon ~ Kindle

Synopsis:
A man with everything on the line…
Known to the underworld only as Jericho, billionaire Theo Fitzgerald is one of the most powerful men in the world. But his plan is to tear down the criminal empire his father created from the inside out—unless someone else does it for him. He suspects a bold, seductive woman named Temple Cross might be trying to take him out with it—but for the chance to burn in the heat she gives off, he's not sure if he minds…
A hired hit woman, Temple has been waiting to get close to Jericho her whole life. The man who destroyed her family is worth looking in the eye before she kills him—but when she's finally alone with Jericho, he's nothing like the ruthless barbarian she imagined. Her reaction to his touch is explosively sexual—and their emotional connection is too powerful for her to ignore. Is she his shot at redemption? Or will he have to risk losing her love to save her life?
Title: Immortal Nights
Author: Lynsay Sands
Purchase: Amazon ~ Kindle

Synopsis:
Abigail Forsythe's life hasn't been easy lately. Still, if there's one thing guaranteed to take her mind off an empty bank account and abandoned dreams, it's a naked man locked in a plane's cargo hold. A very big, incredibly gorgeous naked man. And when instinct prompts her to free him, Abigail must rely on this stranger for survival…a stranger who leaves her thrumming with need every time they touch.
Tomasso Notte knows he's found his life mate in Abigail. Now he just has to hold on to her. They're miles from civilization, hunted by his kidnappers. Abigail has no idea of Tomasso's abilities, or of how intensely pleasurable their unique connection can be. But he's about to show her, beginning with one wild, hot, immortal night…