December was the busiest month of them all. I hardly had any reading time, I'm actually surprised with how many books I was able to read. There were so many books I wish I could have read this month though (sad face).
If I would have read a little longer, I could have added another book to this list. It just wasn't meant to be.
What did you read during the month of December?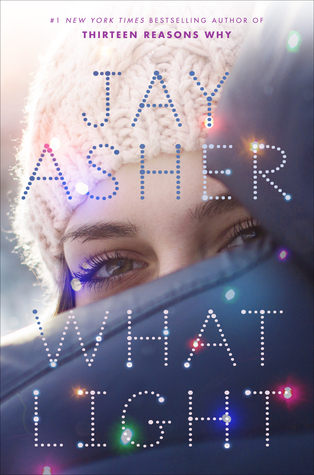 Title: What Light
Author: Jay Asher
Purchase: Amazon ~ Kindle
Rating: ☆☆☆☆
My Review

Synopsis:
Sierra's family runs a Christmas tree farm in Oregon—it's a bucolic setting for a girl to grow up in, except that every year, they pack up and move to California to set up their Christmas tree lot for the season. So Sierra lives two lives: her life in Oregon and her life at Christmas. And leaving one always means missing the other.
Until this particular Christmas, when Sierra meets Caleb, and one life eclipses the other.
By reputation, Caleb is not your perfect guy: years ago, he made an enormous mistake and has been paying for it ever since. But Sierra sees beyond Caleb's past and becomes determined to help him find forgiveness and, maybe, redemption. As disapproval, misconceptions, and suspicions swirl around them, Caleb and Sierra discover the one thing that transcends all else: true love.
Title: Even When You Lie To Me
Author: Jessica Alcott
Purchase: Amazon ~ Kindle
Rating: ☆☆☆☆
My Review

Synopsis:
Charlie, a senior, isn't looking forward to her last year of high school. Another year of living in the shadow of her best friend, Lila. Another year of hiding behind the covers of her favorite novels. Another year of navigating her tense relationship with her perfectionist mom.
But everything changes when she meets her new English teacher. Mr. Drummond is smart. Irreverent. Funny. Hot. Everyone loves him. And Charlie thinks he's the only one who gets her.
She also thinks she might not be the only one with a crush.
Title: Always
Author: Nina Lane
Purchase: Amazon ~ Kindle
Rating: ☆☆☆☆☆
My Review

Synopsis:
Without darkness, there can be no light.
Dean has always been Liv's white knight. Not once has he retreated from battle. Not once has he failed to keep his wife safe. Not once has he broken his promise to slay monsters for her.
Then Dean encounters a monster he can't destroy. A monster he can't even face. And for the first time ever, there is nothing he can do to protect the woman who owns his heart.
The love story of Liv and Dean West that started with AROUSE and continued in ALLURE, AWAKEN, and ADORE now comes to a breathtaking conclusion as the professor and his beauty fight the battle of their lives.
Title: Body Guard
Author: Jessica Linden
Purchase: Amazon ~ Kindle
Rating: ☆☆☆☆
My Review

Synopsis:
The most eligible bachelor on Capitol Hill has met his match.
Abbie Whitmore is good at her job. She knows how to protect people, and she's always right–until Congressman Jonathan Lassiter comes along. The presidential hopeful refuses to believe that his politics have put him in danger, yet Abbie's determined to keep him safe. But how can she protect him while she's guarding her heart?