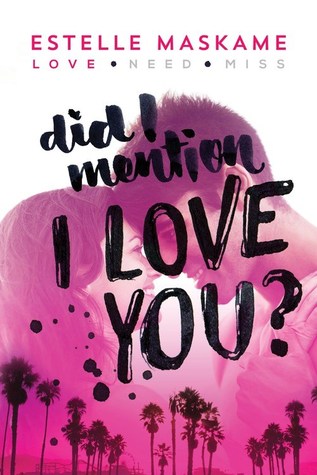 Title: Did I Mention I Love You?
Author: Estelle Maskame
Genre: YA Fiction, Romance, Contemporary
Pages: 393
Chapters: 30
Started: 01/21/2017
Finished: 01/23/2017
Purchase: Amazon ~ Kindle
Rating: ☆☆☆☆☆

Synopsis:
Love is everything but expected.
Eden Munro came to California for a summer of sun, sand, and celebrities—what better way to forget about the drama back home? Until she meets her new family of strangers: a dad she hasn't seen in three years, a stepmom, and three stepbrothers.
Eden gets her own room in her dad's fancy house in Santa Monica. A room right next door to her oldest stepbrother, Tyler Bruce. Whom she cannot stand. He has angry green eyes and an ego bigger than a Beverly Hills mansion. She's never felt such intense dislike for someone. But the two are constantly thrown together as his group of friends pulls her into their world of rule-breaking, partying, and pier-hanging.
And the more she tries to understand what makes Tyler burn hotter than the California sun, the more Eden finds herself falling for the one person she shouldn't love…
This book was everything I expected it would be. I couldn't put it down once I started it. Who doesn't like a forbidden romance??
Eden is basically me. Which is why I love her so much. She gets introduced to this partying scene that she doesn't really care for like her new friends. She meets so many new people in a small amount of time and gets dragged to things she doesn't like.
Tyler is a boy with a ton of secrets. He's dating a girl he doesn't want to date. He's partying and doing drugs. He doesn't give a shit to say the least. He's always in trouble.
Eden and Tyler are stepsiblings. Stepsiblings who just happen to have the hots for each other. Tyler thinks Eden is the perfect distraction for his messed up little mind. Eden just wants to figure him out.
When the two finally admit their feelings and hook up, all hell breaks loose.
Tiffani (Tyler's girlfriend) finds out, and causing such a drama about it. Bitch is crazy, by the way.
In the end, the find it's "easier" to stay away from each other.
I'm disappointed with how this book ended. But I am more thrilled with the fact that there are two more!
Five stars for this one 🙂
I feel like this song fits so well with Eden and Tyler. (I also wanted an excuse to listen to this song)