With February being the shortest month, I'm pretty proud of myself. I managed to read five books in only 28 days! I think I did pretty good 🙂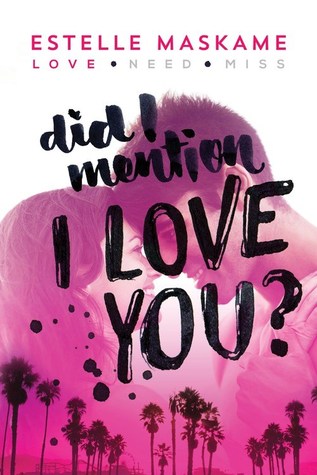 Title: Did I Mention I Love You
Author: Estelle Maskame
Purchase: Amazon ~ Kindle
Rating: ☆☆☆☆☆
My Review

Synopsis:
Love is everything but expected.
Eden Munro came to California for a summer of sun, sand, and celebrities—what better way to forget about the drama back home? Until she meets her new family of strangers: a dad she hasn't seen in three years, a stepmom, and three stepbrothers.
Eden gets her own room in her dad's fancy house in Santa Monica. A room right next door to her oldest stepbrother, Tyler Bruce. Whom she cannot stand. He has angry green eyes and an ego bigger than a Beverly Hills mansion. She's never felt such intense dislike for someone. But the two are constantly thrown together as his group of friends pulls her into their world of rule-breaking, partying, and pier-hanging.
And the more she tries to understand what makes Tyler burn hotter than the California sun, the more Eden finds herself falling for the one person she shouldn't love…
Title: Hollywood Dirt
Author: Alessandra Torre
Purchase: Amazon ~ Kindle
Rating: ☆☆☆☆☆
My Review

Synopsis:
Cole Masten. Abandoned by his superstar wife, Hollywood's Perfect Husband is now Hollywood's Sexiest Bachelor: partying hard and screwing even harder. Watch out Los Angeles, there's a new bad boy in town.
Summer Jenkins. That's me, a small town girl stuck in Quincy, Georgia. I cook some mean chicken and dumplins, can bluff a grown man out of his savings in poker, and was voted Most Friendly my senior year.
We were from different worlds. Our lives shouldn't have collided. But then Cole Masten read a book about my small town. And six months later, his jet landed on our dusty airstrip, and he brought Hollywood with him.
From the start, I knew he was trouble. For our town. And for me.
Sometimes, opposites just aren't meant to attract.
Title: The Protector
Author: Jodi Ellen Malpas
Purchase: Amazon ~ Kindle
Rating: ☆☆☆☆☆
My Review

Synopsis:
People think they have Camille Logan nailed: daddy's girl; beautiful, spoiled young woman with her father's bank balance to fund her lifestyle. But Camille is determined to have a life free from his strings. Out on her own, she's made mistakes, including one that found her clawing her way back after a stint in rehab and plenty of bad press. Now, after fighting so hard to be independent and happy, she finds her life threatened as a result of her father's ruthless business dealings. Caught between resentment and fear, Camille prepares herself for the measures her father will take to protect her. But nothing could prepare her for the ex-SAS sniper who crashes into her life.
Jake Sharp resides in his own personal hell. He was distracted from duty once before, and the consequences were devastating–both personally and professionally. He vowed never to let that happen again. Accepting the job of bodyguard to Camille Logan isn't the kind of distraction from his demons he should take. Women and Jake don't mix well, yet protecting the heiress seems the lesser of two evils. But Jake soon discovers that she isn't the woman she's perceived to be. She's warm, compassionate, her presence settling, and his duty to protect her soon goes deeper than a well-paid job, no matter how hard he fights it. He needs absolution. He comes to need Camille. But he knows he can't have both.
Title: Birthright
Author: Jessica Ruddick
Purchase: Amazon ~ Kindle
Rating: ☆☆☆☆☆
My Review

Synopsis:
How do you live with yourself when you decide who dies?
Ava Parks would have killed for an iPod for her sixteenth birthday. Anything would have been better than coming into her birthright of being a seeker for the Grim Reaper, an arrangement made by her fallen angel ancestor in exchange for his re-admittance to heaven. And she isn't just any seeker—she finds souls that have the potential for becoming angels and sentences them to death. A year and two souls into her role as a seeker with her conscience overflowing with guilt, Ava comes up with a plan to thwart the system. When it goes awry, she is forced to submit the name of a classmate, Cole Fowler, an ornery, rough around the edges guy who always seems to come to her rescue, whether she likes it or not. Her feelings for Cole prompt her to intervene, and she saves him from death, upsetting the Grim Reaper's agenda.
While Ava schemes to find a way to save Cole, she learns he has some secrets of his own. She lets him believe he is protecting her, and not the other way around, until a final showdown with the Grim Reaper forces Ava to make choices Cole may never forgive.
Title: Retrieval
Author: Aly Martinez
Purchase: Amazon ~ Kindle
Rating: ☆☆☆☆☆
My Review

Synopsis:
One story. Two couples.
I proposed on our first date.
She laughed and told me I was insane. Less than a day later, she said yes.
It was a whirlwind, but we were happy…
Until we got greedy and wanted a family.
It was a life I couldn't give her, not for lack of trying. Fertility just wasn't on our side. We sought out doctors and treatments. Spent money we didn't have. Lied to our families. Smiled for our friends. Put on a brave face for a world that didn't understand.
Finally, we were successful…
Until we were forced to bury our son.
We were left broken, battered, and destroyed.
They say love is in the details, but it was the details that ruined us.
This is the story of how I took back what had always been mine.
The retrieval of my wife and our family.